Former Clemson defensive back Marcus Gilchirst made the NFL highlight reel on Sunday. Sort of.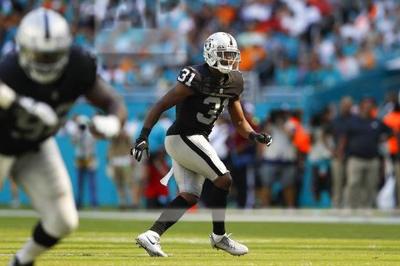 The Oakland Raiders' defender posted two tackles in the team's 45-42 win over the Cleveland Browns. But his biggest impact came via a tipped ball.
Less than five minutes into the game, Cleveland quarterback Baker Mayfield, the first overall pick in this year's draft, tried to connect with Anthony Calloway on a short pass.
Gilchrist read the play and jumped in front of Calloway's outstretched hands, tipping the ball into the air. His teammate, Gareon Conley, bobbled it, secured it, and ran it in for a touchdown.
Defense wasn't a huge factor in the game, as the two teams combined for 87 points. But Gilchrist did help Oakland get on the board early and capture its first win of the season. Meanwhile, the pick-six was Oakland's first in two years.
Gilchrist has 19 tackles this season.
Highlights from other former Tigers
Deshaun Watson, quarterback, Houston Texans – 29 for 42 for 375 yards and 2 touchdowns in 37-34 win over Indianapolis
DeAndre Hopkins, wide receiver, Houston Texans – 10 catches for 169 yards and a touchdown in 37-34 win over Indianapolis.
Jordan Leggett, tight end, New York Jets – 3 catches for 13 yards and a touchdown in 31-13 loss to Jacksonville.
Adam Humphries, wide receiver, Tampa Bay Buccaneers – 6 catches for 36 yards in 48-10 loss to Chicago.
Coty Sensabaugh, cornerback, Pittsburgh Steelers – 5 tackles in 26-14 loss to Baltimore.